Homepage for Lambeau Field section 138, row 60, seats 26-29
---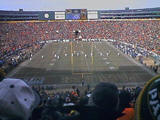 Visitors in 2009:
---
These are not your typical football tickets!
By sitting exactly in the middle of the end zone, one gets a fantastic view of how the teams spread out on the field; how the holes open up; and how the defenses work coverages. This really is a true football fans vantage point! And, row 60 is high enough that you can see the north end of the field well (Binoculars are a plus). The camaraderie of the end zone fans is great, and 'Dan the beer man' (probably not his real name) visits often.
Hear John Madden comment on the end zone view: [short clip] [long clip] (August 29, 2007 - KCBS)
And, seat 29 is on the aisle - so if you are buying seats 28 & 29 - or all 4 seats - your party is on the aisle!
Selected
AV from these seats (click the pictures)
| | |
| --- | --- |
| | |
| Jan 4, 2004 Packers 33 - Seahawks 27 | movie: flyover from Jan 4, 2004 (29 MB) |
---
Send Comments to: webnovice